Medalist's new specialty pellets for horses come in two options Alfalfa pellets and Sprout pellets.  Sprout pellets consist of barley sprouts, alfalfa, oat hay, and Timothy Grass. Barley sprouts are a fresh, vertically farmed feed that is processed into cubes within a day of harvest. 

The sprout pellets have vet-recommended optimal protein with 50% more energy than alfalfa hay. Because the barley sprout the energy sources are slow-release and easily digestible, this feed lowers the risk of colic and founder. It is a better feed for your horses.
We take your horse's nutrition very seriously and want to earn your trust! Just so that you are aware, it takes 5-12 business days from the day you place your order to the time it gets delivered.  That's because we take the time to mix the best ingredients, make fresh pellets daily, and schedule the most efficient delivery schedule to keep shipping low or free depending on your area.
Dimensions 3' L x 3' W x 4' H
Customer Reviews
10/28/2020
Taunya
United States
Complete nutrition for an endurance horse!
"I own an OTTB who requires just a little more than the average horse for nutrition. He is my current endurance horse. He has battled with on again off again tying up, mental struggle, and muscle loss. So many owners are quick to say their horse has a bad attitude, is unwilling and stubborn. However, nutrition plays the biggest role in their overall mental and physical health. Sometimes the smallest nutritional change can make the biggest difference. Three weeks ago I purchased my first bag of Medalist Cubes to try in place of commercial grains. WOW!!!! What a difference!!! His Topline is filling in nicely, no issues of tying up and he mentally is willing and ready to work. I can't say enough great things about this product. The best part is there is ZERO waste! I'm a forever customer. Thank you Medalist feeds!!!!!" - Tanya C. West Point, Utah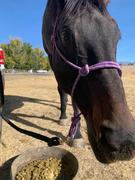 11/12/2020
Kale W.
United States
Review
I like it fast simple and horses look good
10/28/2020
Ruth B.
United States
10/28/2020
Richard R.
United States
Horse feed
Feeding this is so much easier and cleaner than feeding hay. And my horses love it and look great!
10/28/2020
Cole N.
United States